p>
The leader of the Cuban Revolution, Fidel Castro, attended the closing on Tuesday of the 6th Party Congress of the Communist Party of Cuba.
During the congress, which began on Saturday at Havana's International Conference Center, delegates discussed and approved the Central Report presented by Raúl Castro at the opening session.
In five commissions and a plenary meeting, delegates discussed the Draft Economic and Social Policy Guidelines of the Party and Revolution, a document that was approved after further exchange and a mass consultation with the population.
The 6th Congress also instructed the government to create a standing commission to implement and develop the guidelines approved, without undermining the functions of Central State Administration agencies.
Party delegates said the Central Report was essential to undertaking future tasks, especially in the economy, and was an objective assessment of this crucial time for the nation.
In parallel, the pillars that guarantee the sovereignty and independence of Cuba will not be ignored for an instant: the unity of the people and its permanent willingness to defend socialism at any price.
The 6th Congress also charged the Central Committed with bringing recommendations to Parliament to perfect the leadership bodies of People's Power, the country's electoral and political/administrative division system.
(Prensa Latina)
AP VIDEO: Fidel at the PCC congress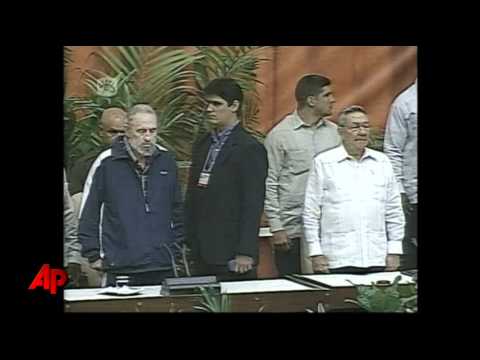 jfdghjhthit45